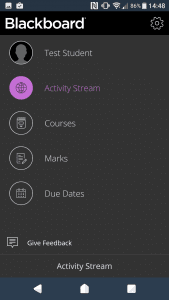 Did you know that there is an app for students wanting to access Blackboard on their smartphones? It is called BB Student and is available free of charge of users of iOS, Android and Windows platforms.
As the app is made for mobile use, the somewhat cumbersome navigation of Blackboard through a regular browser on a mobile device has been made more user friendly, allowing students to keep up with modules, marks and updates on the go.
Starting the app takes the student to the activity stream; a mixture of announcements, deadlines and calendar entries from all their active modules. The app prioritises the various items: important announcements are visible first; then all date related items, organised in terms of due dates and colour coded by module. This useful colour coding is used throughout the app, making it clear which module any item relates to.
Students are also able to access their module details, documents, discussion boards, assignments and tests. It is also possible to participate in webinars, although with some limitation to the more advanced features of Blackboard Collaborate Ultra Experience, such as the polling function.
Many of the tasks lecturers and instructors need to carry out are not possible on BB Student, however – it is aimed at students, after all. But don't feel left out! Blackboard have announced the release of an app for academic staff called BB Instructor, due to be released in July 2017. We will be looking at BB Instructor as soon as it is ready and will update you here on this website.
In the meantime you can find out more about the features in BB Student app here from Blackboard's website.