Sometimes you may want to display something different on the projected screen than on the podium PC screen.
For example:
when using PowerPoint presenter mode
when you want to stream the activity via Blackboard Collaborate
when you don't want to share everything on the podium PC with students (emails, notifications, browser windows etc.)
Extended desktop effectively gives you two screens; the podium PC and the projector(s).
How to extend the desktop
Use the shortcut 'WINDOWS KEY+P' to display the menu below and select 'Extend'.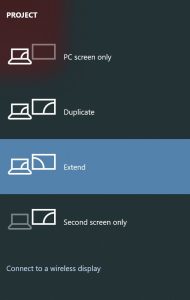 PowerPoint presenter mode
Open the PowerPoint file and under the 'slide show' tab tick 'Use Presenter View'. If you have extended the desktop you will see a choice of monitors. Select the monitor that describes the projected screen(s) (Extron/monitor 2).
When you 'play' the PowerPoint the presentation will display on the monitor selected and the 'presenter view' will display on the podium PC.
Recording using Panopto
In Panopto the 'Main Screen' will be the podium PC screen which you may not wish to record. You should untick 'Capture Main Screen' and tick 'Capture Second Screen'.
You can check the correct screen has been selected by clicking on the appropriate tab on the right hand side of the Panopto application.

Streaming the session using Blackboard Collaborate
In the 'Share Content' menu, under 'Share Application/Screen' select 'Extron/Screen 2' and click 'Share'.
Sharing an application/browser window
Simply drag the applications window either left or right from the podium PC monitor onto screen 2 (the projected screen).
Important
you need to extend the desktop first or you will not get the option for a second monitor in applications
when you have finished use 'WINDOWS KEY+P' to return the room to duplicate displays to avoid confusion for the next person in the room
Article by Mike Clapp
Image courtesy of Pexels