This page is intended to be read in conjunction with the Blackboard Programme Guiding Principles page. This page brings together the examples of a Basic programme site and an Advanced programme site into one example, which is shown here.
Example of a FET Blackboard Programme site
NB: The items from 'Announcements' down to 'Postgraduate Study Skills' are highly recommended for inclusion; inclusion of the other items would be dependent on the programme type.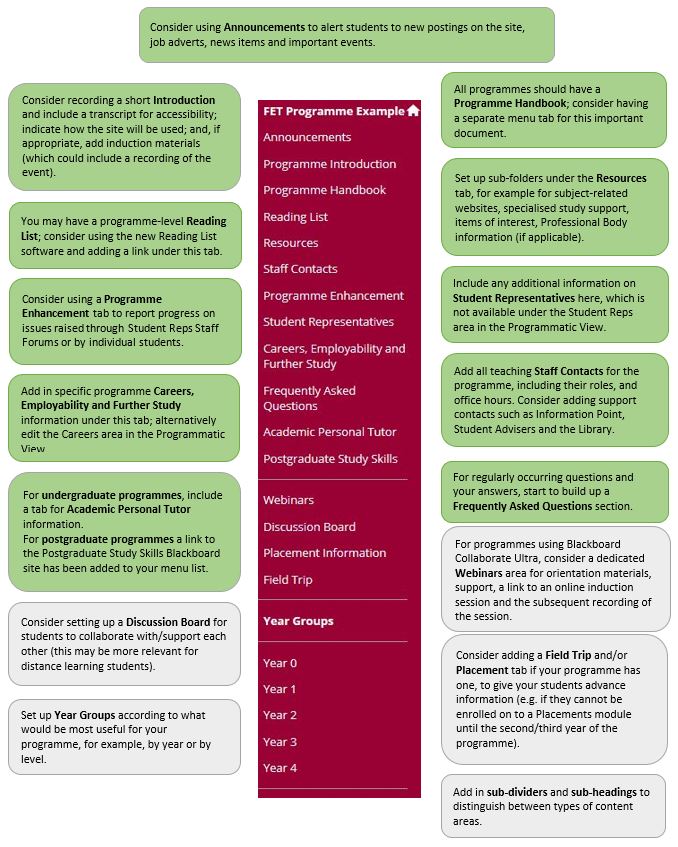 The following menu items are highly recommended for inclusion on a programme site:
Announcements – use to draw attention to new postings on the site, special events, news alerts, degree ceremonies. Make sure this section is kept up to date by deleting out of date information. If you decide that all the announcements can be deleted, a 'bulk deletion' can be performed by the Learning and Research Systems team (formally Blackboard Support) (Learning & Research Systems or telephone 0117 32 85735). Consider using the date restrictions facility in Blackboard so that announcements disappear off the list when the occasion has passed.
Programme Introduction – then add sub-folders accordingly. Include an introduction to the programme, which could be text or recorded, and, if recorded, include a transcript for accessibility purposes. Refer to how the Blackboard site will be used, and add induction materials, and options information. To make a recording from your desktop, we recommend using Panopto, which should be available on your desktop. Please refer to our Desktop recording (using Panopto) guidance.
Programme Handbook – add a link to the programme handbook. There is a UWE Programme Handbook 2020/21 template.
Reading List – if you have a programme-level reading list, consider using the Reading List software to create an online list.
Resources – which might include sub-folders such as:

Study skills – specialist study skills for the programme, and links directly to software applications in LinkedIn Learning if this is relevant for your programme.
Websites – with links to relevant sites and some context as to why the sites might be useful.
Professional body/institution information.

Staff Contacts – include details of the team, i.e. roles and contact preferences (photos and staff profiles can be included in Programmatic Blackboard). Consider including support contacts such as Information Points (the first point of contact for all student-related enquiries), Student Advisers and the Library, identifying Alistair or Emma as the contact according to your subject area.
It is recommended that you add a tab to record your responses to student feedback, e.g. naming it Programme Enhancement, like the Module Enhancement tab. This may include, for example, acknowledgement of positive comments from students, a note of action taken in response to concerns raised through the Student Rep Staff Forum system, or changes made to the programme in response to the previous year's review.
Student Representatives – who they are, how to contact them and how the system works, but again be aware of information that is already available on Programmatic Blackboard.
Consider adding in some programme-specific Careers, Employability and Further Study information under this tab; alternatively edit the Careers area in the Programmatic View.
Frequently Asked Questions – over the years, there may have been regularly occurring questions and answers that could be posted here.
For undergraduate programmes add a menu tab for Academic Personal Tutor, include a brief introduction and add a link to UWE's Academic Personal Tutor programme.
For postgraduate programmes, include a menu tab for Postgraduate Study Skills. This should have already been added to your programme site by the Learning Innovation Unit. If not, please contact fet.liu@uwe.ac.uk for it be be added.
Webinars – if you are using Blackboard Collaborate Ultra to deliver online induction sessions. Use this menu item for the orientation information, technology support contacts, links to any programme induction sessions and the recordings. You may want to give students access to their own webinar room so that they can collaborate online.
Discussion Board – special consideration needs to be given to including a menu item for student interaction purposes, e.g. a student network/discussion forum/wiki, because students often don't engage with these. For these to be successful, input from the Programme Leader and the rest of the teaching team is likely to be necessary. See the Blackboard Help pages for more information: Discussion boards; Wikis. If you do choose to set up a discussion board or wiki, it is good practice to provide some 'netiquette' guidelines. As an example, you could use this YouTube video on Discussion Board Netiquette.
Field Trip/Placement Information – if students would benefit from advance information on one/both of these, ahead of the module start date, then consider adding the relevant menu item.
Year Groups – consider setting up student groups, for example by year or level, or a grouping relevant to your programme, to help students find relevant information easily (see the Blackboard Help page on Groups). Outline the function of the group, how the area will be used and the staff involved. Currently, this cannot be done in ISIS by FET SAT so programme staff will have to set them up manually. Then structure students' access to the groups by using adaptive release (see the Blackboard Help Release Content page for more information.)