The Immersive Reader tool provides several ways to make learning more accessible. It is available across multiple Microsoft products and can aid students and staff with additional needs, as well as being a great proofreading tool. It helps to make learning more accessible in the following ways:
Text preferences
The Immersive Reader allows users to change text size, spacing, font, and themes (page colour), making content more inclusive for those with a visual impairment or a learning difference, such as Dyslexia.
Grammar options
Words can be broken up into syllables, making them easier to comprehend and pronounce, and the Immersive Reader can also colour code and label words, showing which ones are nouns, verbs, adjectives and adverbs. The colours of the labels can be changed by the user too, allowing them to tailor them to their own preferences.
Reading preferences
The line focus setting narrows the focus of reading, and highlights either one, three or five lines at a time, making it easier to concentrate for those who struggle to focus when presented with a large body of text.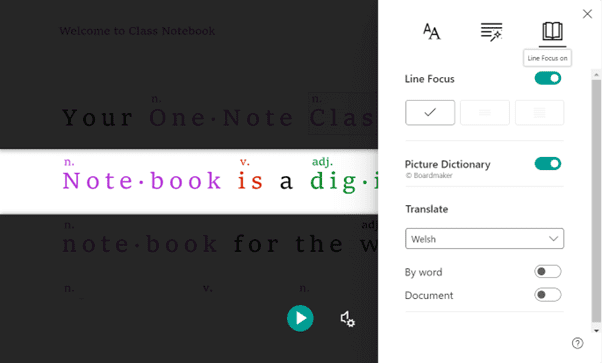 The picture dictionary option allows users to click on a word they might not understand or be able to visualise, and one or several images will appear above the word.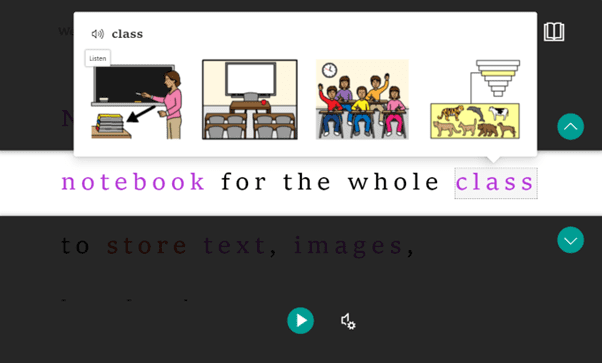 The translation tool offers the option to translate text to over 60 languages, with more languages being added regularly, and allows users to switch back and forth between languages.
Read aloud
The read aloud tool allows users to listen to the text being read out, whilst following along as the words being spoken are highlighted in the text. Users can choose the speed and gender of the voice reading the text, personalising it to suit their preferences.
Dictate
The dictate tool works alongside the Immersive Reader in Word, PowerPoint, Outlook and OneNote, and transcribes text spoken through a microphone connected to the device you are using. This is useful for those who prefer to talk instead of writing large bodies of text, and makes it easier to transfer handwritten notes to a computer.
Who it's useful for?
The Immersive Reader tool can make content more inclusive for users with visual impairments, specific learning difficulties, and for users who find concentration and focus difficult. The Read Aloud function is also great for proof-reading, as it will read aloud exactly what you have typed, allowing you to audibly spot grammar and spelling mistakes.
What software is it available on?
The Immersive Reader is available on most Microsoft applications, although with limited functionality in some formats (such as desktop apps). The list below details which apps support the Immersive Reader, with links to more information on the functionality in different formats, and how to access the Immersive Reader in each app.
Photo by Monstera from Pexels.