You can now use Mentimeter directly in Teams meetings!
The Mentimeter integration with Teams has been enabled for all staff and students at UWE. When you or your students go into a meeting, you should have access to Mentimeter from your list of actions (if you can't see it, go to Apps and search for it from there).
If a student clicks on the Mentimeter icon it will open up a panel in Teams where they can interact directly with Mentimeter, rather than having to do so on their phone or in a separate tab.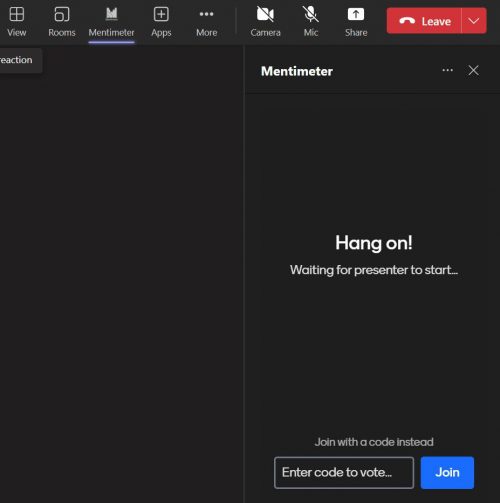 You can use this in two different ways.
Students enter a join code
You can open your Mentimeter presentation separately and share the screen, or you can give students a code for an audience-paced presentation if you don't want to share the results in real time. Either way, students can enter the join code and answer the questions in the panel in Teams just like they would on a phone.
Automatic presentation
This makes things even easier for the students, though it is a little harder to set up.
Before the meeting, follow the steps on Mentimeter's help page to set up a presentation and add it to your meeting. Note that you will need to edit the meeting by going into your calendar on Teams, not through Outlook.

Once you join the meeting, share the Teams tab according to the instruction on the help page. When a student clicks on their Mentimeter icon, the panel that opens will automatically link to this presentation, rather than asking them for a join code.
Note you can attach multiple Mentimeter presentations to a meeting and share them at different times. If you plan to use multiple presentations, this method will help make sure your students are in the right place!
Top tip: when you have added a Mentimeter tab, while still editing the meeting, use the dropdown on the tab to rename it to something more meaningful – particularly if you intend to attach multiple presentations.
Photo by Kindel Media on Pexels