Microsoft Teams is now available to all UWE staff. Teams is very flexible and multi-functional, and the trade-off for this is that it takes some time to learn how to use it to its full potential. One of the things you can do to make it work better for you is control how and when you receive notifications. It is up to you to find your preferred balance between staying informed and not feeling overwhelmed.
Types of notification
There are basically three ways you can be notified:
Email – If you are not used to using Teams regularly, you may wish to receive notifications by email.
Banner – As long as you are logged into Teams, desktop or 'banner' notifications will pop up on your screen, even if the Teams app is minimised or just running in the background.
Feed/Chat – When looking at the Teams interface, a red circle with a number will pop up next to the Activity Feed icon at the top of the left menu when you receive a notification. Clicking on the icon will give you a list of all your notifications, with the most recent at the top. If you have an unread Chat message, a red circle with a number will pop up next to the Chat icon on the left menu instead. If you do most of your work in Teams and are regularly looking at the interface, this may be all you need for most notifications.
Notification options
The usual notification setting options within Teams are:
Banner and email (you may want to set this for essential information, such as core meetings, your main working channels or anywhere where you are mentioned personally)
Banner (useful for reducing the amount of emails you get, if you are confidently using Teams on a daily basis)
Only show in feed (good for nice-to-know information that probably doesn't require you to act)
Off (use this to cut down noise from channels where you don't usually need to follow the activity and people will mention you personally if something needs your attention)
You can also set your preferences for whether you want audio notification, and how often you want emails about missed activity (i.e. things that appeared in your feed which you haven't looked at).
How to change your notification settings in Teams
Click on your profile picture in the top right corner of Teams. Choose Settings – Notifications. This will give you a long list of customisable options. Select from the dropdown next to each to choose how you want to be notified.
Mentions
Mentions work by drawing people's attention to things that are relevant to them. Simply type @ into the chat or channel post, and you will get suggestions of who to mention. People will be notified according to their own settings.
Personal mentions e.g. @JohnSmith. You may want to set these as 'Banner' or 'Banner and email' as they are likely to be highly relevant to you.
Channel mentions e.g. @ProjectGroup. By default you may want to set these as 'Banner' or 'Banner and email', and then modify individual channel settings to mute channels which are not a priority.
Team mentions e.g. @AccountsTeam. These mentions may be used for notification of all-team activities or information that the whole team needs to be aware of. Assuming all the Teams you belong to are relevant to you, you may want to set these as 'Banner' or 'Banner and email'. If you are only peripherally part of a number of Teams, however, you may prefer to see these just in the activity feed.
Turn off audio notifications
Scroll down to the 'Other' section of the notification settings. Click on the dropdown arrow next to 'Notification sounds' and select 'Off'.
Further ways to manage notifications
Channel settings
You can change specific channel settings by clicking on the three dots next to the channel and selecting 'Channel notifications'. You can choose your settings for new posts and for channel mentions.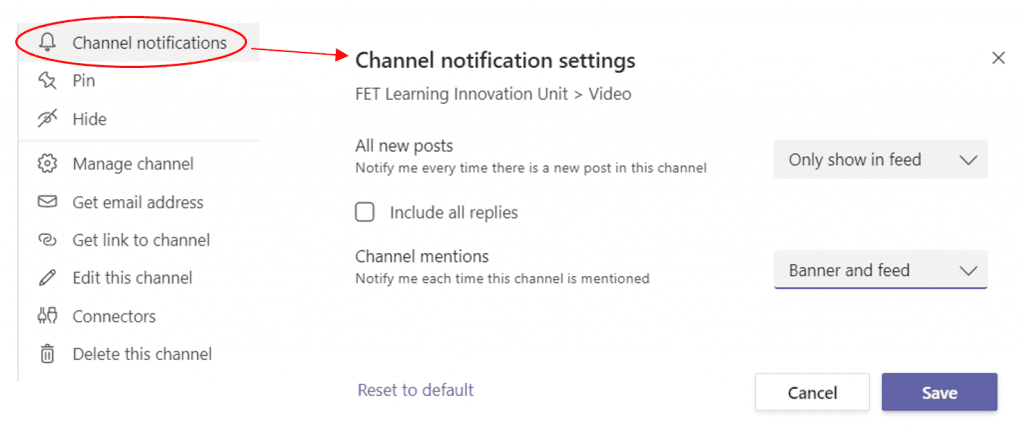 Conversation settings
You can also mute specific conversations within a channel. When you hover over the conversation you will see the emoticon bar pop up, and three dots next to it. Click on the three dots and select 'Turn off notifications'.
Hiding teams and channels
You will not get notifications from teams and channels you have hidden. To hide a team or channel, click on the three dots next to it and select 'Hide'.
This also makes your list of teams and channels easier to scan through as you will only see the unhidden ones. If you do have hidden channels, there will be a note at the bottom of your channel list saying how many are hidden.
Do not disturb
You can mute all notifications for a while by setting your status to 'Do not disturb'. This is very useful to temporarily prevent pop ups and audio notifications while in a meeting, for example. But it can also be useful if you just need to get on with some work without distraction. Your individual settings will not change, and you can start to receive notifications again by setting your status back to 'Available'.
For further information about Teams, see the Using Microsoft Teams guide on the intranet.
Photo by NEOSiAM 2020 from Pexels