Xerte is an open-source browser-based tool that allows educators to develop rich, interactive and highly accessible content quickly and easily and to seamlessly publish that content online. It offers a quick way for people with limited technical skills to create engaging, accessible and media rich resources. Those with more specialised skills can also use the tool and really exploit and extend the possibilities.
See these examples of Xerte in action to get your creative juices flowing!
1. Ease of use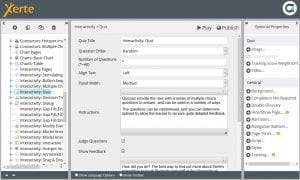 The first great thing about Xerte is it's easy to use. If you have the technical skills for online shopping, you can create your own interactive learning resources in Xerte! The real skill is in knowing what and when to give your learners to help them learn – a question of pedagogy rather than technical ability.
FET staff don't need to download or install any software to start using Xerte, it's already running on a UWE server ready for you to use. Just go to xerte.uwe.ac.uk and log in with your usual UWE username and password.
Content is assembled using online forms to populate a suite of page templates. You'll find lots of useful information here to get started with Xerte.
2. Publishing
Xerte produces standards-compliant HTML5 that runs on all devices running a modern web-browser, allowing learners to access content whenever and wherever they choose.
Making your Xerte learning resources available to students is straightforward and flexible. In a few clicks you have a unique URL for your resource that you can put onto Blackboard as a hyperlink, send in a Blackboard announcement or email directly to people. The link can be set to public (so anyone who clicks on the link can open the resource) or whitelisted so the link only works if it has been clicked on, for example, in Blackboard.
Xerte also creates an embed code that allows you to display the resource in a webpage. Using this approach means your students can see and interact with the resource in Blackboard, for example, without needing to leave Blackboard.
If you have used one of the publishing methods above and subsequently find a typo in your Xerte resource (or, indeed, if you want to radically change what's in the resource) it's easy to deal with. Because there is a live link between the resource you edit and what the students see you can simply edit the original resource and any changes you make are immediately reflected in what your students see.
Another publishing option is to download the resource from Xerte and then to upload it into Blackboard. Although this breaks the live link between the resource you have created and the resource students see (so to correct a typo you would need to edit the original resource in Xerte, download it again and upload into BB again) it has the advantage that your students' engagement with the resource (e.g. the questions they answered correctly) can be recorded in Blackboard for tutors to see.
3. Accessibility
Another feature of Xerte that I think is great is how accessible it is. Accessible and inclusive resources give better experiences for all learners and there is less risk of learners failing – and of any learner being disadvantaged.
Xerte is built from the ground up to be accessible. Accessibility can be a difficult area for tutors to make sense of. Providing very high levels of native accessibility has been a priority for Xerte from the beginning.
Xerte has a high level of keyboard accessibility for non-mouse users. Learners can zoom or resize text using tools in their browser, and there an inbuilt colour contrast changer in the XOT template. Find out more about accessibility and Xerte.