Microsoft Forms has some great features for use in education. With the ability to combine automatic and manual grading, leave individual feedback, and report on results both by student and by question, it can be used very effectively for online formative testing.
Setting up a test
First, ensure you are creating a 'New Quiz' (this is the default on the education version of Office 365) rather than 'New Form'. See our article Simple surveys and quizzes using Microsoft Forms for more information about setting up the quiz.
You can add a maximum number of points for each question, regardless of whether it can be marked automatically. For multiple choice questions you can add generic feedback to each option. This could be used to prompt students to consider why their answer is wrong, or signpost them to further resources.
Once you have set up your questions, go to the three dots in the top right to check your settings.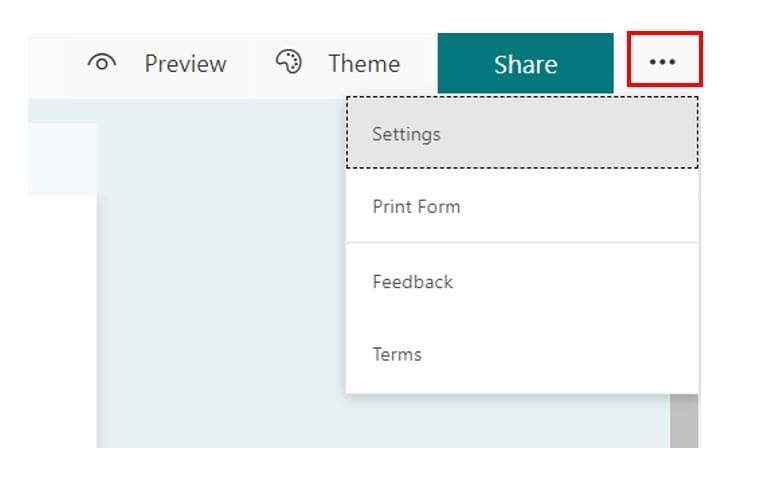 Show results automatically – you may want to switch this off, particularly if you intend to add manual scores and feedback.
Who can fill in this form – if you set this to 'Only people in my organisation can respond' then you can automatically record their name and limit responses to one per person.
Options for responses – here you can set a start and finish date for the test, and choose whether questions are presented in sequence or random order (note that the option for multiple choice answers to appear in random order is set on each individual question). You can also customise the message given when the test is submitted.
Marking tests
Go to the 'Responses' tab. You will get a summary of the test and some overall statistics. To mark individual responses, go to 'Review answers'.
You can choose the 'People' tab to mark the full test one student at a time, or the 'Questions' tab to mark question by question.
Auto-graded questions will automatically award full marks for a correct answer and zero marks for an incorrect one – however, you can alter this mark manually.
You can read and give marks to text answers or other non-auto-graded questions.
You can add individual feedback for the student for each question.
In 'People' view, you can add overall individual feedback for the student at the top of the test.
Go back to the Responses tab and click 'Post Scores' when you are ready to release the feedback. You can choose to release to individual students or the whole group. Students should be able to view their scores and feedback by opening the quiz from the original link. Note you can't recall feedback once it has been posted, but you can still edit it.
You can also download all the results as an Excel spreadsheet. This includes any adjusted grades and feedback.
For more information, see Microsoft's help site.