Update February 2021
These instructions are no longer necessary for staff, as recording is now available to staff in Teams. However, you may like to provide this guidance to students who wish to record their Teams meetings.
Student guidance for using Panopto
is available.
If you want to record your Teams meetings, you will at present need to do this with separate screen capture software. You can use Panopto in the same way as you would to make desktop recordings of lectures, with a few slight changes.
Before you start recording
Make sure you tell participants they will be recorded and that you have their permission. Let them know who will have access to the recording and why (is it just to help you write minutes, or will it be circulated to participants? Does it need to be kept for official purposes?).
Make sure you have nothing sensitive on your desktop or in your open tabs. Turn off any notifications which may pop up on your screen as these will be captured in your screen recording. You can turn off pop-up notifications in Teams by clicking on your portrait or initials in the top right, selecting the top option (your current status) and changing it to 'Do not disturb'.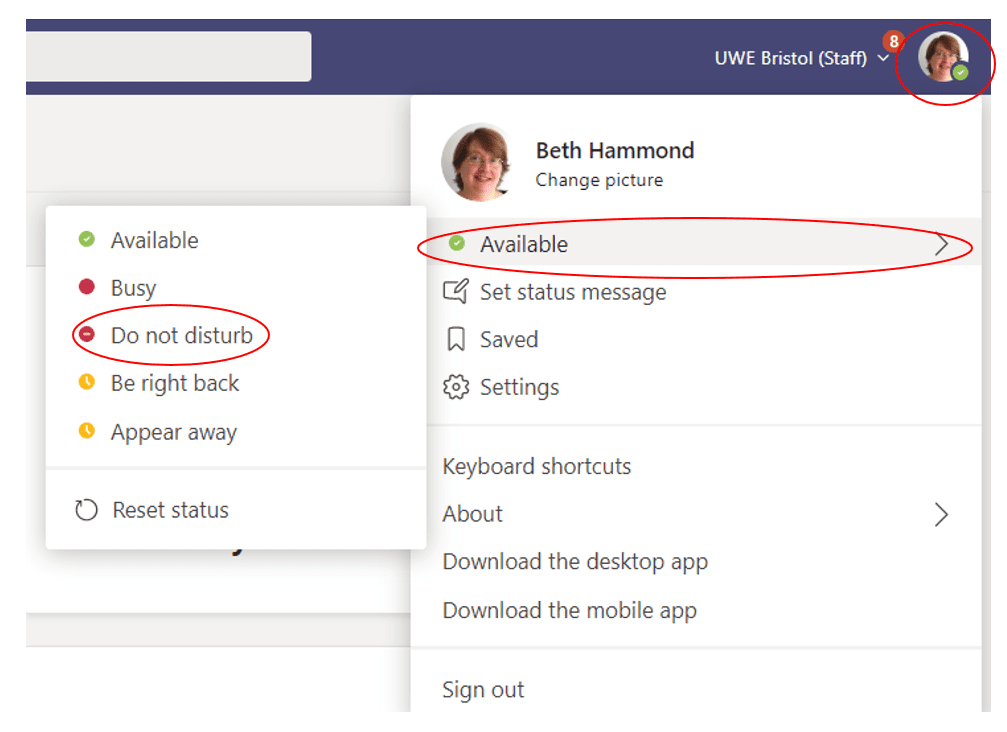 Tip: On a Windows PC you can maximise an app on your screen by pressing F11. If you are running Teams in a browser tab, this will hide your other tabs from view.
In Panopto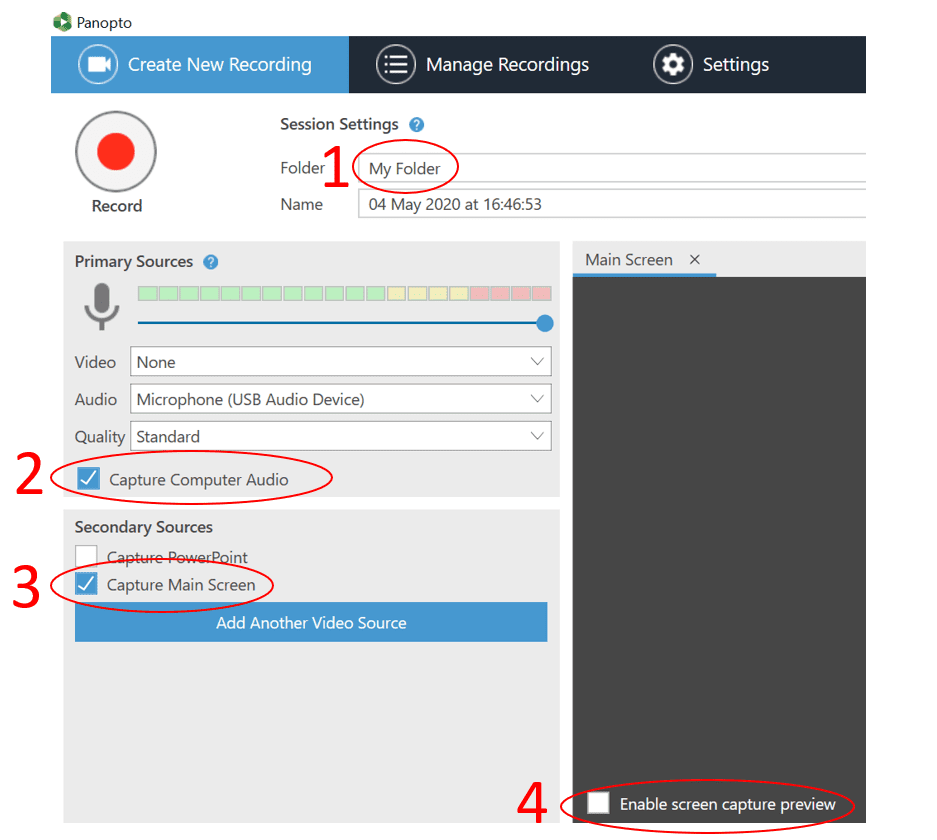 Choose 'My Folder' to store your recording, unless it is assessment-related and you have an assessment folder set up (email fet.liu@uwe.ac.uk if you want more information about this). If you save it to a module site, it will be visible to all staff and students on that module from the Panopto cloud.
Make sure computer audio recording is ON. This is so that you capture all participants' voices, not just what you say into the microphone. Use a headset if you have one.
Make sure you capture your screen. If any of the participants share their screens or apps, you will capture them in your screen recording.
If you have multiple screens, make sure you choose the correct one. You can get a preview in Panopto by clicking on the 'Enable screen capture preview' box.
You will probably not need to capture your webcam, or PowerPoint slides (unless you have the slide deck for the whole meeting, in which case it may be worth capturing slides as well as your screen).
After recording
You can edit your recording to hide, for example, the start and end of the video where you switched between Panopto and Teams. If you have saved to 'My Folder', hidden sections will not be available to anyone else. If it is in an assessment folder, other staff on the module will be able to access these sections if they choose.
If you need to share the recording with other meeting members, you can do this by clicking the Share link in the top right.
Start typing their name into the 'Invite people' box, and their user name will come up (use the one that starts with 'Blackboard\' if there is a choice). If they do not have a Panopto account you can just enter their email address.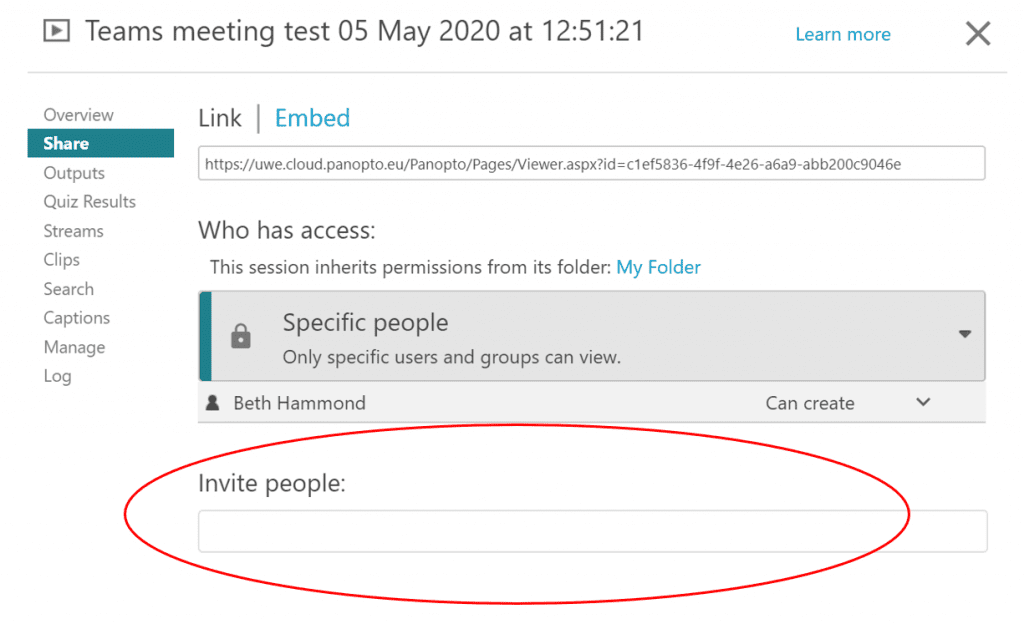 Make sure 'Notify people via email' is ticked, then click 'Send and save changes'. People you have invited will receive an email with the link. This gives them permission to view the recording. They will not be able to edit it.
Meetings relating to assessment (for example student presentations done in Teams) should be stored in the relevant module assessment folder. However, for other types of meeting you may need to download the recording to be securely stored elsewhere. Use the Download button at the top right of the screen.
Contact fet.liu@uwe.ac.uk if you have any questions.
Photo by Lisa Fotios from Pexels