Author: Tom Buckley
There is bound to be conversations around the use of existing lecture/event/learning capture for online learning provision. This briefing note outlines:
where the College stands on this practice
some useful imagery you can deploy to further discussion
some of the evidence base you can fall back on if challenged on best practices
Relevant College positions
The 'new normal'  and content delivery
Content will still be created and managed through the core toolset (where possible). Content will be designed primarily for online consumption and for use as part of online provision. Adhering as closely as possible to the appropriate best practice for online delivery.
The reuse of 'recorded live events' without editing to be limited as far as is practicable.
CHSS principles
Good online learning should be specifically designed for delivery online.
Not purely existing content or strategies uncritically redeployed for online delivery; this includes the assessment strategy.
CHSS Module Quality Expectations
All video content delivered through Panopto should be as short as is practicable. Consider recording a series of 10-20 minute videos rather than a 1 hour lecture.
Suggested Imagery
On reusing whole: Have you ever been to a gig? Have you noticed how many phones are up recording the event? If you paid for a CD for a band would you be happy if you got given one of these phone recording instead of the CD? Obviously the recording means something to the individual who was there but for someone who wasn't there is it a good substitute? If you wanted to listen to a song from your favourite album would you put the 'Live DVD' on and fast forward to a specific part of that gig to find that song? Are you more likely to search for the song on Spotify or YouTube? Different media is made for different patterns of consumption. Acknowledging this does not diminish the role of lecturing in Higher Education.
On editing: Have you ever listened to a Podcast? They are intimate experiences. They have been edited into that format. If you have ever listened to a Podcast of a radio show then they are usually different from the radio show. Certain approaches of producing podcast versions of a radio show add content that is specific to the podcast audience. Sometimes introductions highlighting expectations for the show and a post credit sequence where participants reflect on what happened. Some have specific content aimed at podcast listeners to make up for not being able to participate in any live elements. Some just have additional things they need to say and can continue to say it outside of the broadcast slot allotted to them.
This is pertient to event capture. Reuse of captured events is no prohibited. However ensure you are using the tools available to add value to these recordings. Release the potential of the medium of delivery rather than highlighting a preference to face to face as the 'genuine' experience.
Evidence Base
Article
Guo, P., Kim, J. & Rubin, R. 2014, "How video production affects student engagement: an empirical study of MOOC videos", ACM, , pp. 41. Library Record
Recommendations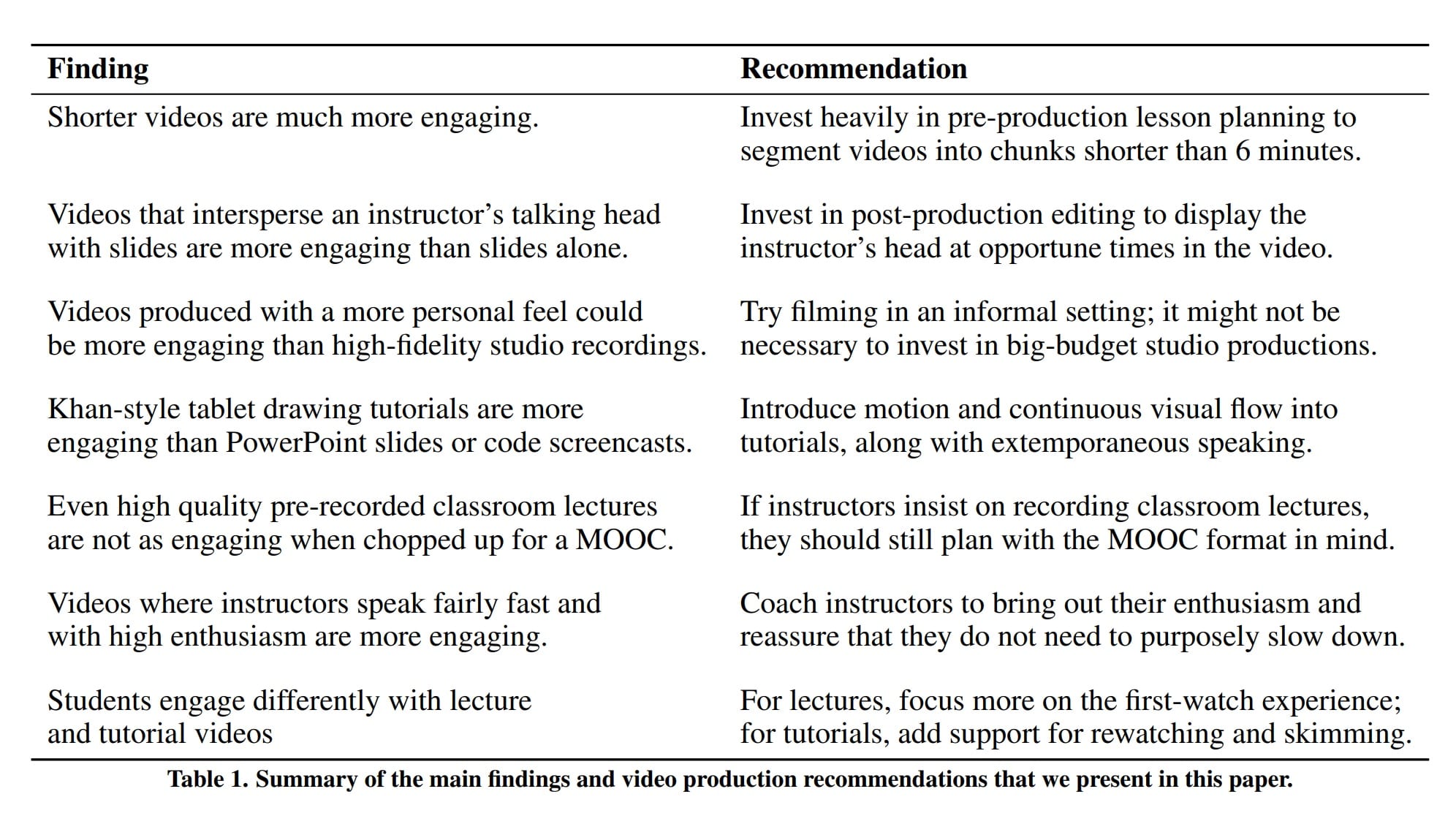 Article
Slemmons, K., Anyanwu, K., Hames, J., Grabski, D., Mlsna, J., Simkins, E. & Cook, P. 2018, "The Impact of Video Length on Learning in a Middle-Level Flipped Science Setting: Implications for Diversity Inclusion", Journal of science education and technology, vol. 27, no. 5, pp. 469-479. Library Record
Recommendations
Our results indicate that while assessments directly following short videos were slightly higher, these findings were not significantly different from scores following longer videos. While short-term retention of material did not seem to be influenced by video length, longer-term retention for males and students with learning disabilities was higher following short videos compared to long as assessed on summative assessments. Students self-report that they were more engaged, had enhanced focus, and had a perceived higher retention of content following shorter videos.
Article
Harrison, D.J. 2015, "Assessing Experiences with Online Educational Videos: Converting Multiple Constructed Responses to Quantifiable Data", International Review of Research in Open and Distributed Learning, vol. 16, no. 1, pp. 168-192. Library Record
Recommendations
Article
Luo, Y., Zhou, G., Li, J. & Xiao, X. 2018, "A MOOC Video Viewing Behavior Analysis Algorithm", Mathematical problems in engineering, vol. 2018, pp. 1-7. Library Record
Recommendations
So the following suggestions are given for video design.

(i)Do not publish videos that are too long. The teaching content must be streamlined to reduce the length of the video.

…

(iii)Do not publish long video later in the course. The value of  is often very low.